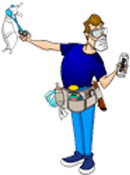 Diaper tool belts for new dads!
Our mission is to equip new fathers with all of the tools that they need to be the best, most involved, dad that they can be.
At Daddy Tool Belts we're all about finding the perfect tool belt for dad. With the largest selection of new daddy tool belts on the web you can find the perfect co-ed baby shower, first Father's Day, office baby shower, new dad or congratulations gift. Whether you're looking for a diaper tool belt to welcome Daddy's Little Girl, Daddy's Little Boy - or even a special gift for Father of Twins or Triplets, we've got you covered.